The 2022 QBANK Everyday Heroes Awards ceremony was a huge success and enjoyed by all who attended.
The event saw our award winners recognised by the community for the remarkable impact they have in the Queensland Police, Fire, Ambulance, Health, Corrections, Justice, and Public Service employees.
Watch the highlights of the event: 
"After a year that delivered once-in-100-year floods, uncertainty and state disasters, our frontline, first responders and public service workers have continued to shine in their commitment to the community." - QBANK CEO Mr Currie.
"On behalf of the Queensland community, we want to thank them for displaying the great character and commitment our frontline services are known for."
The six award categories include Achievement, Ownership, Dedication, Working Together, Excellence and the Young Everyday Hero Award. We were proud to see so many nominations come through and to have most of the finalists in attendance on the day.
We would like to congratulate the winners for 2022:
Achievement – Darren Randall | Queensland Police Service
Through sport, in particular rugby league, QPS Senior Sergeant Darren Randall from the Townsville District, proposed the development of a partnership between the Queensland Police Service and the Bindal Sharks United Training, Employment and Sport and Recreation Aboriginal Corporation (UTESRAC). The initiative was born out of a desire to create a culture of historical acceptance - acknowledging past practices, ensuring wrongs are not repeated and driving relationships forward in the spirit of reconciliation and togetherness through sport. 
In 2018 Permission was granted for a Queensland Police Service team to participate in the Queensland Murri Rugby League Carnival. Since then, their participation has evolved into a standing invitation to participate in the Regional All Blacks Carnival, the inclusion of the Queensland Police Service Women's team and Masters' team, as well as playing a curtain raisers prior to National Rugby League Fixtures to further promote the initiative.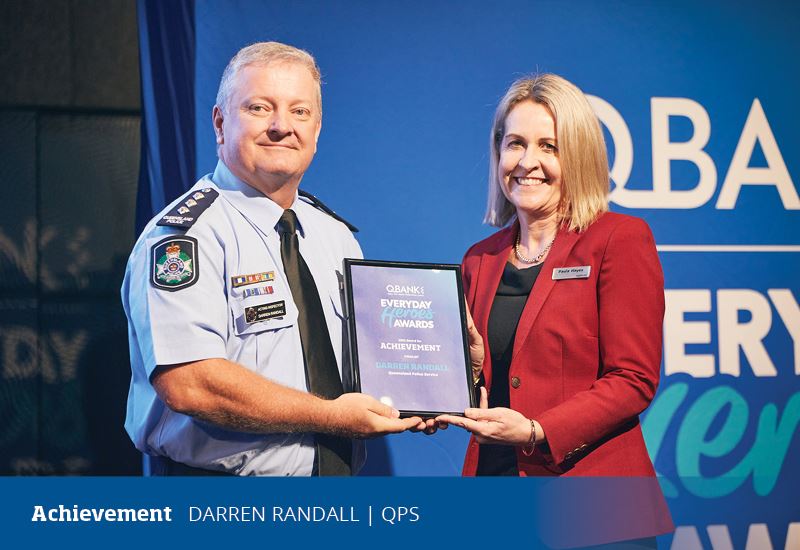 Dedication – George Leon | Queensland Police Service
Over the past six years, Mount Isa Queensland Police Liaison Officer and Kalkadoon Elder, George Leon, affectionately known in the community as 'Uncle George', has gone well beyond the call of duty and built strong ties within the local community – supporting school students, troubled youth and struggling Indigenous children to make positive choices and believe in their own potential. For almost 5 years, George has spent all of his time, much of it volunteer time, visiting schools and engaging with kids to encourage school attendance and bridging a gap between disengaged students and the police.  His passion for youth work is unrivalled and his commitment to the children of Mount Isa as a mentor and counsellor is immeasurable.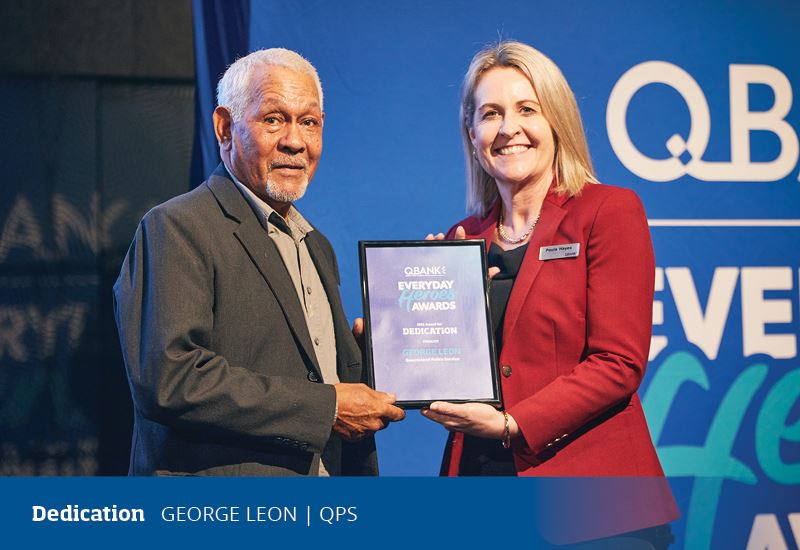 Excellence – Kimberly Allen & Tracey Eelkema | Queensland Police Service (Joint Winners)
With the COVID-19 pandemic disrupting normal routines over the past two years, reports of Domestic and Family Violence (DV) incidents have sadly seen a corresponding increase. Kimberly and Tracey know that when victims are in a financially vulnerable position or else need to escape an unsafe situation quickly, there may not be an opportunity to grab the essentials, so they took it upon themselves to put together DV Crisis Packs to assist vulnerable women, and have now expanded their assistance to vulnerable children and men. Kimberly said she first had the idea when responding to a DFV job in her community. She and Tracey decided to gather some of these personal care items from her own home and put together a few packs to be held at the Gatton Police Station for aggrieved women when needed. 
"Tracey and I often purchase a few items that are on special each week while doing our personal grocery shop," Constable Allen said. "Friends, family and some community members are also supporting our initiative by donating items to help support DV aggrieved women. "We have now expanded our range to include packs for aggrieved children and aggrieved men." The packs are all individual in content, but typically include toothbrush and toothpaste, shampoo and hair conditioner, sanitary products, hand lotion, body lotion, cotton buds, tissues, hand sanitiser and a face mask. The children's packs include colouring-in pencils, tissues, socks, stationery, activities and snacks. All the items are paid for by Kimberly and Tracey, or donated by friends, family or community members.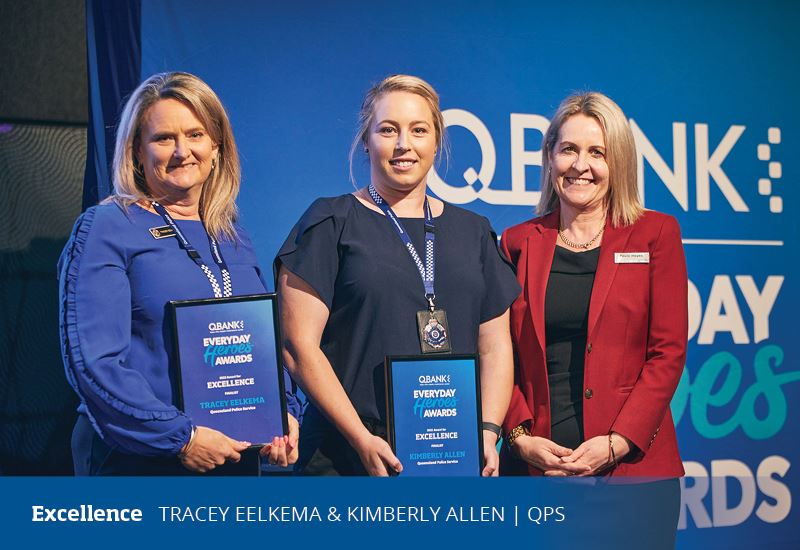 Ownership – Monique Rashford | Queensland Corrective Services
Monique Rashford pioneered a Women's Group in Roma to empower females in overcoming barriers to living in rural and remote Queensland. Monique has been involved with the project since its inception and has worked diligently with local community organisations in strengthening partnerships and collaborations with the Community organisations, Queensland Corrective Services and individuals under supervision. The group encourages all women in the local area to come to a place of safety and build support networks with an aim to reduce recidivism. 
Working Together – Brad Stokes, Joshua Lee, Prudence Snedden, Anthony Crompton | Queensland Ambulance Service
A team of four QAS workers – Brad Stokes, Joshua Lee, Prudence Snedden, and Anthony Crompton – worked together for over 17 hours overnight to keep a patient alive after multiple cardiac arrest onboard an international vessel. After reaching the ship by boat initially, deteriorating weather conditions made it too unsafe to airlift the patient off the ship and forced the chopper to leave the hanger.  The combination of a language barrier, incompatible and depleting resources, the Defib almost completely running out of battery, exhausted oxygen supply and awful weather conditions contributed to a scenario that was literally life or death. 
Managing to bring the patient back from the dead multiple times was the result of incredible skill, determination and unwavering strength of the team who continually resuscitated him and spent the entire night manually ventilating him for 4 to 5-hour periods. Against all odds, the patient survived.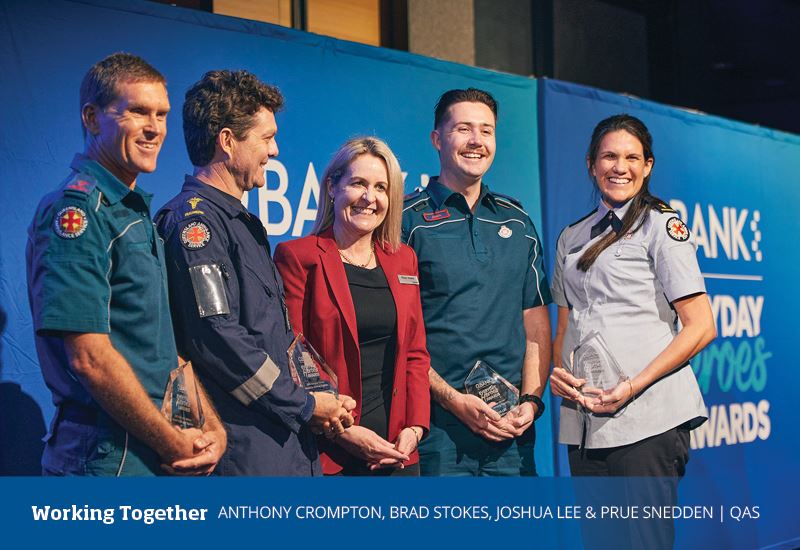 Young Everyday Hero Award – Ameya Jaurigue
Ameya is a Year 11 Brigidine College student who is a powerhouse, with her many volunteering role advocating for ethnic and LQBTIQ+ groups. She works with the QFCC Youth Advisory Council, Children's Rights Queensland and Bravehearts national youth advisory council, and volunteers in the Walter Taylor Council Ward Office.